6:00-7:30  Wednesdays  High School Youth Group  
You won't want to miss these engaging faith conversations, connecting with friends, and relieving the weekly stress of school and busy schedules.  Many young people say it's their favorite part of the week!  Snacks and beverages provided.
Every Wednesday, the new Youth Room is open after school for study, games, and hanging out! Be with your friends in a comfy atmosphere.  The Youth Room is located in the lower level, across the hall from the rec room.  Come check it out!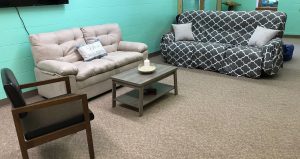 Godstock!  High School Synod Gathering
November 9-10-11  at Metropolis in Eau Claire
Fun times with new friends in Chaos Waterpark, Action City, amazing speakers, and fun bands.  It's like a mini-National Youth Gathering!!  For more information, go to sybnw.org/godstock-2018 or talk to Kelly Jensen.  Registration is due by Oct. 20th.  Registration forms available in Youth Room or from Kelly.  Cost is $85 for the event, plus hotel rooms (shared expense)
Join us on Facebook to learn more about current events and gatherings.