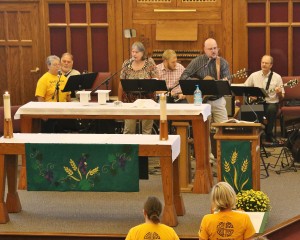 OSL Choir: The OSL Choir sings twice a month during the school year. Rehearsals are Wednesday evenings from 7:00-8:00PM in the Choir Room. Choir Director: Michael Dayton – mericdayton@gmail.com
Jubilee Choir: The Jubilee Choir welcomes singers in Kindergarten – 2nd grade. The Jubilee Choir rehearses on Wednesday evening from 6:00-6:30PM in the Choir Room.
Joy Choir: The Joy Choir welcomes singers in grades 3 – 6. The Joy Choir rehearses Wednesday evenings from 6:30-7:15PM. Childrens' Choirs Director: Emily Hansen – escott16@yahoo.com
Bells: The Bell Choir will be rehearsing and playing sporadically throughout the year. Bell Choir Director: Merlyn Aude – merlynaude@Hotmail.com
OSL Band: This band plays at the 10:30 AM Sunday (contemporary) service throughout the school year. We are currently looking for a drummer to join us.
For more information about any of choirs or other musical opportunities, contact Michaela Gifford, Director of Music.